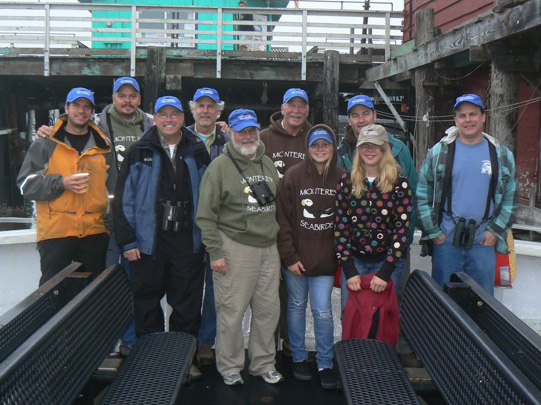 Monterey Seabirds Trip Leaders
From left to right: Martijn Verdoes, Todd Easterla, Matthew Dodder, Dan Singer, Don Roberson, Roger Wolfe, our chummer girl Tayla Easterla and her friend Amelia, Fritz Steurer between them and on the far right Tim Amaral.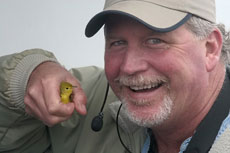 Roger Wolfe
Roger Wolfe has resided in the Monterey Bay area for more than 40 years. He has logged more than 200 days at sea including trips to Ecuador, New Zealand, Alaska and the Sea of Cortez. He has personally led more than 120 seabird trips on the Monterey Bay since 2001. He has also served as a naturalist on many whale watch trips.
You might have seen him on the National Geographic Channel program
Whale Attack!
Roger is known for his energy and enthusiasm. He likes to keep everyone in good humor on our trips.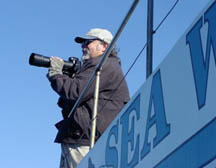 Don Roberson
Don Roberson is the author of five published books on the birds of Monterey and California. He has also authored a compendium of information on birds on his prodigious website
CREAGRUS
.
In 1989 Don served as seabird surveyor on the NOAA research vessel McArthur on a four-month journey throughout the Pacific. He has published major identification papers on Cookilaria petrels, small black and white shearwaters and boobies. He served on the California Bird Record Committee for 13 years and managed to do all this in addition to his extensive world birding adventures.
Don has the uncanny ability to tell when we venture out of Monterey County waters without using instrumentation!
For more details, see the
bio on Don Roberson's website
.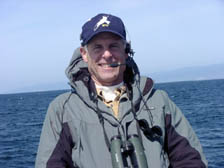 Dan Singer
Dan Singer embodies the expression, "Still waters run deep". You won't read his posts on the listservs very often. He's not into bragging. But if you engage him in a conversation about birds you will come to realize the depth of knowledge he has. Dan is the former Chairman of the California Bird Records Committee. He has also served as regional editor for
North American Birds
magazine. He has a great affinity for being out on the ocean and for seabirds and enjoys sharing this appreciation with others. We are very fortunate to have him as part of our team. His latest travels have been to Baja California, Chiapas and Peru.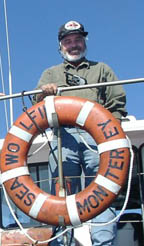 Richard Ternullo
Richard Ternullo is a second-generation sea captain born and raised in Monterey. With a degree in biology, he has led natural history trips on the bay for 33 years, 16 of those as a skipper for Shearwater Journeys. His familiarity with the marine mammals and seabirds of Monterey comes from firsthand experience. He is on the water and in communication with other skippers nearly every day with Monterey Bay Whale Watch.
The research Richard conducts with Nancy Black on Killer Whales has been the subject of feature programs on the BBC, the Discovery Channel and National Geographic Explorer. He is the best seabird skipper on the west coast, bar none.
Richard is also king of the one liners with a vast repertoire of jokes he hears over the radio.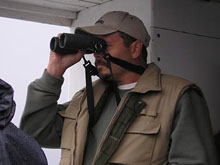 Todd Easterla
Todd Easterla has been birding since he was eight years old, not counting the earlier days when his dad would stop the car on vacations to collect fly-by specimens. His father, Dr. David Easterla, teaches at the University of Missouri and is co-author of Birds of Missouri. Todd was raised on birds and birding.

He has worked as a tour leader and contract biologist and operated Pterodroma Tours to pursue offshore species. He has been leading pelagic trips in California for 18 years. His birding has slowed a bit recently as he is a full time single father for chummers Tayla and Tanner.

Todd is a gifted birder with a set of eyes that are legendary. He often sees things on the horizon well before anyone else. In May of 2005 he was part of the team that set a new county Big Day national record in San Diego County of 217 species.


Bruce Elliot
Bruce Elliot is a retired Senior Biologist with the California Department of Fish and Game. He has taught classes in field biology at the University of California and Cabrillo College for the past 35 years. Bruce is a skilled field trip leader who conducts a variety of tours and explorations of local birds and mammals. He is a former marine and famous for his booming voice and red suspenders. He has been actively birding for more than 55 years.


Matthew Dodder
A birder since the great Boston blizzard of '78, Matthew returned to California after 14 years of bitter cold east coast winters and hot muggy summers. He began teaching birding at the Palo Alto Adult School in 1999 where he met his future wife "Cricket". They have had many birding experiences together but she particularly remembers the time Matthew got too close to a Southern Cassowary. He survived, and currently sits on the Santa Clara Valley Audubon Society board of directors. He wishes he didn't have to work during the week when all the rare birds are reported.
See his website
www.birdguy.net
Martijn Verdoes
Born in The Netherlands and raised in the coastal village and migrant trap Katwijk, Martijn started bird watching and photography at the age of ten. Sea watching from land, staring at a usually empty North Sea with the occasional Sooty or Manx Shearwater just behind the horizon, he has always been intrigued by sea birds. A pelagic trip out of Kaikoura, New Zealand meant the beginning of a new era; no more seawatching from land, from now on only from a boat! When not in lab or on a boat, Martijn's free hours are spent on photography and the lure of the list.
See a collection of Martijn's photographs at
http://agamiblog.blogspot.com/search/label/Martijn%20Verdoes
Blake Matheson
Blake Matheson is a fourth generation resident of the Monterey Peninsula with a deep and life-long devotion to the marine wilderness of Monterey Bay. He was born and raised near Point Pinos on the outer Peninsula where he grew up hand-lining the kelp forests for his dinner in the happy company of rorquals and great whites. An active birder since high school, he has traveled extensively across the globe from the high arctic to the old world tropics to pursue his passion for being in the presence of our planet's most magnificent and endangered birds and mammals. He is an environmental lawyer by training and devotes much of his free time to writing and wildlife photography. Blake currently serves as president of the Monterey Audubon Society and sits on the board of the Pacific Grove Museum of Natural History.



Rod Norden
Rod Norden started birding back in his college days with legendary birder Ted Parker. Doug Stotz was also his birding mentor (and housemate) in 1970's Tucson. Some of his photographs appeared in Rich Stallcup's book
Birds of the Nearshore Pacific
(1990) and the
Stokes Eastern
and
Western Field Guides
(1996). He got the photo of the first documented Stejneger's Petrel in North America (Nov. 17, 1990) that he shot with a manually focused film camera mounted on a gunstock. He and Steve Bailey also sighted the first record for Dark-rumped Petrel (prior to it being split).
Rod is also an avid astronomer and docent at the Lick Observatory. He is a favorite with visiting birders. He likes getting to know people and really enjoys helping folks sort our seabird identifications. After a long stint in high tech and world travel (with pelagic trips in all three oceans), Rod is now teaching computer science at Cabrillo College.
Steve Rovell
Steve Rovell is a long-time Monterey County birder who experienced his first pelagic trip back in 1990. A member of Monterey County's 400 club, Steve has led field trips for several organizations, including Monterey Audubon, Wild Bird Haven, Santa Cruz Bird Club and the Monterey Bay Birding Festival. Steve is married to his lovely wife, Venetia, and has two sons, Julian (15) and Marco (9). Steve's other hobbies include, but are not limited to native plant gardening, photography and soccer. During the school year, Steve teaches biology and Earth science at Alisal High School in Salinas.



Out of the 98 pelagic trips I've taken since 1986 the last 23 with Monterey Seabirds have, by far, been the most enjoyable and rewarding. Passenger numbers are limited, rather than maxed out, insuring optimal comfort and quality birding for all. The spotters are informed, helpful and always accessible and the cost per person has remained much lower than the norm for west coast pelagic trips. As a seabirder/photographer I've found on-board conditions to be ideal and quite liberating. Elbow room for panning and space for spontaneous movement about the deck is a given. Monterey Seabirds' skipper/seabirder, Richard Ternullo, who has been ferrying naturalists and seabirders out on Monterey Bay and beyond for 3 decades, has, without a doubt, been indispensable to the success of every trip. Roger Wolfe, experienced leader and coordinator of Monterey Seabirds and present on every trip, is notorious for his energy and enthusiasm.
Jeff Poklen (Santa Cruz, CA)