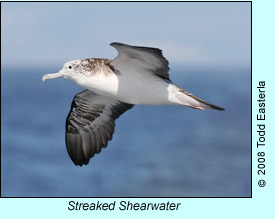 Monterey Seabirds features year-round pelagic trips enabling you to experience the seabirds of the Monterey Bay in their respective seasons.
Just offshore of Monterey, California lies a 6000-foot deep submarine canyon running right down the middle of the Monterey Bay. Similar in size to the Grand Canyon of the American Southwest, this geologic feature creates cold-water upwellings, rich in nutrients that foster a remarkable diversity of seabirds and cetaceans. The combination of these elements within a semi-protected bay makes Monterey a worldwide destination for pelagic birding. Just a few miles from shore one can observe pelagic seabirds that travel across both the hemisphere and the ocean to feed in the bountiful waters of Monterey Bay.
In the interest of having a reasonably sized group conducive to pelagic birding and photography, space is limited to 25 participants.