Monterey Seabirds features year-round pelagic trips enabling you to experience the seabirds of the Monterey Bay in their respective seasons.

Just offshore of Monterey, California lies a 6000-foot deep submarine canyon running right down the middle of the Monterey Bay. Similar in size to the Grand Canyon of the American Southwest, this geologic feature creates cold-water upwellings, rich in nutrients that foster a remarkable diversity of seabirds and cetaceans. The combination of these elements within a semi-protected bay makes Monterey a worldwide destination for pelagic birding. Just a few miles from shore one can observe pelagic seabirds that travel across both the hemisphere and the ocean to feed in the bountiful waters of Monterey Bay.

In the interest of having a reasonably sized group conducive to pelagic birding and photography, space is limited to 25 participants.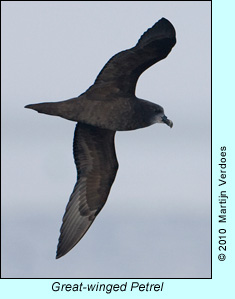 The
About Monterey Seabirds
page details the advantages of Monterey Seabirds trips. See our
Species List
and
Trip Reports
to get an idea of the seabirds and marine mammals encountered on these trips. Our
Seabird Links
will help with your trip preparation, study and other interesting information on seabirds.
Now accepting reservations for Group charters in 2018. Bring your Audubon chapter, bird club, group of friends or ecotour group. We will provide marine and seabirding naturalists and the crew. Group charter prices are for groups up to 25.

In years past we have run charters for Sacramento and Tucson Audubon Chapters, Colorado Field Ornithologists and Iowa Ornithologist Union and the Santa Cruz Bird Club. For details, please contact us at


2018 MONTEREY SEABIRD TRIPS

8-hour trips - $125, starting at 7:30 a.m.
12-hour trips - $160, starting at 7:30 a.m.
Sunday February 11 (8 hr)
Sunday August 26 (8 hr)
Sunday September 9 (8 hr)
Saturday September 15 (12 hr)
Sunday September 16 (8 hr)
Friday September 21 (8 hr)
Saturday September 22 (12 hr)
Saturday October 6 (8 hr)
Sunday October 7 (12 hr)
Sunday October 14 (8 hr)
Sunday October 21 (8 hr)





Reservations are required. Reservations can be made using our online reservation form or by calling (831) 375-4658 with a credit card number to hold your spot. Go to Whale Watch Trip Information Page for further details (trip preparation, directions, etc.). For the Seabird trips we have a 2-week cancellation policy.

Note that regular Whale Watch trips are also scheduled on the same dates as the Seabird trips.


I just wanted to thank you all for one of the most enjoyable and exciting pelagic trips I have ever been on. I have done a number of pelagic trips on both the Atlantic and Pacific Oceans and by far - yours was the best. The small number of attendees, the ratio of guides to attendees as well as the abilities and collective knowledge of the guides made the trip! Of the 6 of us, 3 were attending their first ever pelagic trip and were very impressed with your company, the experience, and the sightings. Glenn had 12 life birds and we all had the experience of a lifetime watching the killer whales.

On behalf of all 6 of us - please thank your staff for everything they did to make our trip such a wonderful experience. Thank you.
Mary Alice K. (Centreville, Virginia)
(See the trip report for this trip, including a video of the killer whales near the boat.)